Omnia Las Vegas voted World's Best Club 2016 by the International Nightlife Association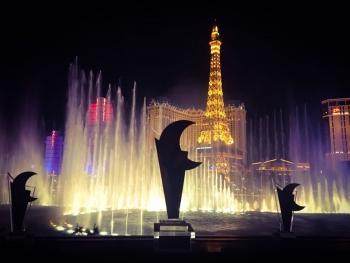 Omnia Las Vegas was named Best Club in the World as well as winning an award for Best Bookings. After a day of intense debated, the 3rd International Nightlife Congress finalized the night of the 26th of October with the Golden Moon Award ceremony. The ceremony rewarded best practices in the industry as well as administrations and other organizations in 16 different categories. For one day Las Vegas has become epicentre of debate for the progress of the nightlife industry, establishing dialogues on topics such as the development of nightlife districts, the quality of life, the influence of the music industry, tourism marketing, nightlife & technology, responsibility, security, among others.
Both Ibiza and Las Vegas, two of world's main nightlife capitals, won awards in various categories. Omnia was the final winner of the Best Club in the World Golden Moon, after a vote led by all of the components of the different nightlife associations from around the world. Ushuaïa Ibiza won second place, Green Valley the third and Pacha Ibiza the forth. Space Ibiza, winner of the fifth place, was also recognized with the award for Most Historical Club and Ushuaïa Ibiza for Best Nightlife Business Development. The Best Booking Service was awarded to Omnia and Best Customer Service was presented to club X's, both also located in Las Vegas.
The Hakkasan Group from the United States won one year more the award for Best Marketing Strategy and Pacha Group from Spain was recognized in the category Best Nightlife Business Group.
The San Francisco Entertainment Commission was warranted a special mention for their outstanding and responsible support to the industry. Another awarded with a Golden Moon was the Night Time Industries Association, winning in the category for Best Awareness Campaign for their inniative "Save Nightlife". Best Security Action went to DEKRA Certification for the "International Nightlife Safety Seal", following Keep Sydney Open win for the most original action in defense of nightlife. The Funktion-One repeted this year with the award for Best Sound System after managing musical events such as Chemical Brothers concerts, Glastonbury Festival, London's Millenium Dome Central Show, and more recently The Glade Festival. The awards even travelled to Dubai for the Best VIP Service offered by Club Provocateur.
In the category for Best Franchise the award went one year more to Space Moscow, and for Most Original Club it went to Warung Brasil. Lastly, as best booking platform was voted Nightspender.
This was the second edition of the Golden Moon Awards, celebrated as part of the framework of the 3rd International Nightlife Congress, and will be back again next year for the next edition of the congress, which will take place in Ibiza. This event will be celebrated alternating between both locations, being held in Ibiza on odd years and Las Vegas the years that are pair.